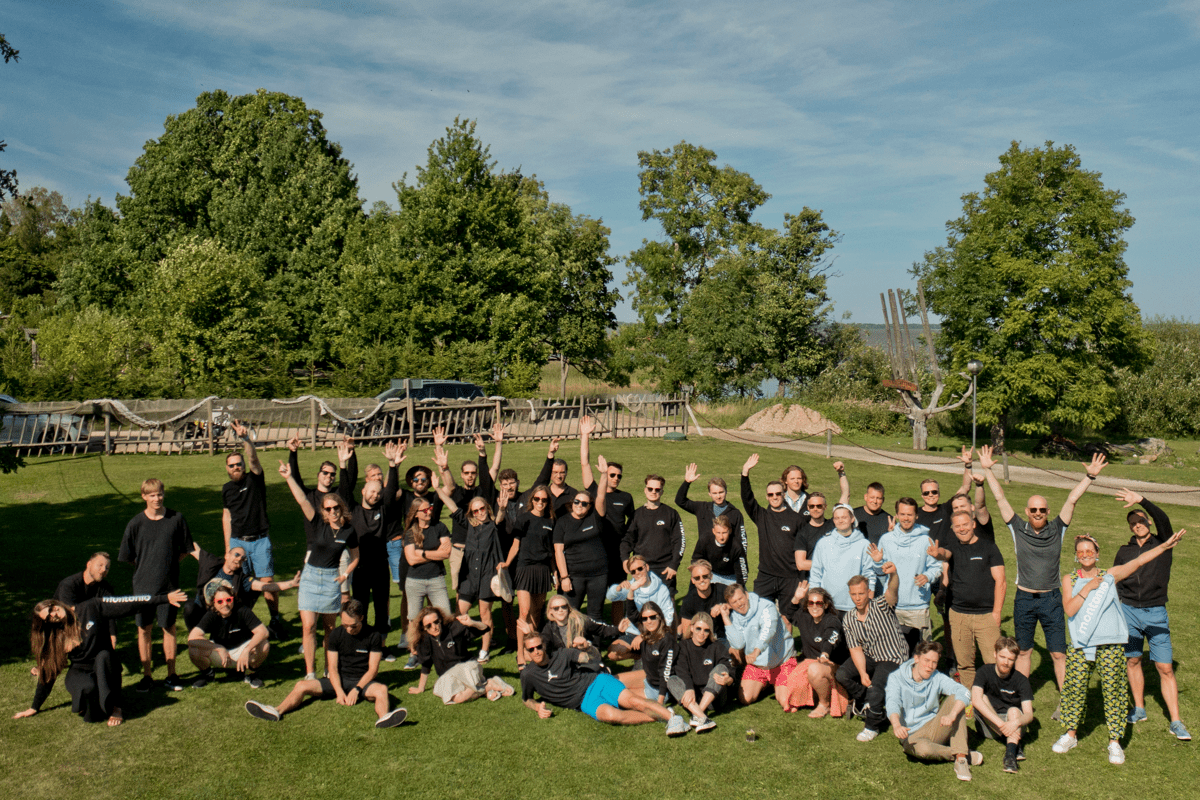 Welcome to Montonio!
Founded in 2018 by six friends in their early 20s. Today our services are used by hundreds of thousands of people every month. It has been one hell of a ride, but we would not have gotten so far without our passionate team.

To be honest, we would've never thought that making payment solutions could be this fun. 🙌


Our values
💂 Ownership
When working with us, you'll never be micromanaged or prodded to work. We trust people who we hire, so we let them make their own decisions.

💩 Learn from it, don't dwell on it
Even the best of us make mistakes, it's only human. Ask for help, fix the mess, tell your teammates and let's make sure we learn from it, so we don't stumble into the same mistakes twice.
🔍 Transparency & clear communication
Always ask the questions you have in your head, say what you're thinking of and always stay honest with each other. We communicate our decisions and explain the thought processes behind them. Everyone who's interested can ask questions and make suggestions about where we're headed and why.

🚀 Ambition and initiative
We work with people who want to do things, who want to grow, who want to learn and with whom we can watch Montonio take off. If you see or hear something you'd like to help with, don't wait to be asked, but stick your neck out and make yourself heard.

🎁 Delight our customers
At the heart of every little success is a merchant that's happy with our products, our customer service or the daily interactions they have with us. Our success and growth is a byproduct of offering value to someone else on the market, never forget that.

🙇🏼 Stay humble
You get the idea.
Why people love it here
Competitive salaries

While we wouldn't want people working with us only for money, we do value our people and believe that this should reflect in their compensation.


Actually transparent stock options

Everyone gets stock options and we take pride in telling you exactly how much your option package is worth instead of presenting you with obscure numbers that never get explained.

Really nifty health insurance

We're offering a diverse health insurance package that covers a wide variety of health-related topics such as dental care, seeing a therapist, getting new glasses and so on.

Hardware that works

Laptops, phones, headphones. We'll get you hardware that you can rely on for your work, depending on which cult you prefer following (i.e. Mac or PC, Android or iOS).

Meet great people and hang out at team outings

People thrive when you let out a bit of steam every now and then. Team outings, dinners, company events and general pizzazz.

No office politics

Never be afraid to speak your mind freely, it's okay to make mistakes and meritocracy will always prevail.

Flexible working

The office is a great place to mix, mingle and to spontaneously bounce ideas around. However, we get it - palm trees are also nice. Work remotely if you want to.

Things move fast here

Ideas get traction, we make fast decisions and are quick to execute.
About Montonio
Montonio is an e-commerce checkout orchestration platform, loved by over 5000 merchants in the Baltics, Finland, and Poland. To date, we have raised nearly 14M € from people who built Wise, Bolt, and Pipedrive.
Already working at Montonio?
Let's recruit together and find your next colleague.